---
The latest in a long line of Italian emergency robots has demonstrated its mechanical strength and surefooted stance by towing a three-ton business jet across a concrete tarmac.
In a recently released video recorded at Genoa Airport in Genoa, Italy, the HyQReal robot pulled a Piaggio P180 Avanti passenger jet over a distance of 33 ft (10 m).
For an idea of the disparity in size and weight, the Avanti jet measures 47.2 ft (14.4 m) in length and 46 ft (14 m) from wingtip to wingtip. It weighs 7,275 lbs (3,300 kg or 3.6 tons).
In contrast, the HyQReal robot dog is 4.4 ft (1.33 m) long. It tips the scales at nearly 287 lbs (130 kg).
In effect, the robot towed a plane that measured more than 10 times its own length and weighed more than 25 times its own body. And HyQReal did so with no problem under the control of a human operator. (Related: First wireless insect-size robot takes flight.)
An Italian rescue robot has the strength to tow a jet plane
Designed by the Genoa-based Istituto Italiano di Tecnologia (IIT), HyQReal is an emergency robot that will support human rescue workers during disaster scenarios. Intended to carry heavy loads like an injured human, it appears to have more than enough strength for that job.
The robot's feet end in customized grips made from a unique type of rubber. The digits give it excellent traction on terrain like the airport tarmac.
An internal battery provides electrical power to four electric motors. In turn, they drive the four hydraulic pumps that move the robot's legs.
As seen in the video, the motors and pumps provide enough mechanical power to tow a three-ton aircraft.
HyQReal also has two computers that serve as its brain. One computer keeps tracks of its surroundings while the other controls its body.
The IIT researchers started working on the first version of HyQReal in 2007. They refined the design over the years, and the new model is the first power-autonomous version that carries its batteries, hydraulics and wireless communications with its operator.
The HyQReal project is developing hardware and software for sturdy four-legged vehicles with the ability to cross various terrain. The robots created by the project will fulfill different roles in all kinds of fields, including agriculture, disaster response and inspecting aircraft.
"Pulling a plane allowed us to demonstrate the robot's strength, power-autonomy and the optimized design," shared IIT researcher and project leader Claudio Semini. "We wanted to achieve something that has never been done before, and we succeeded last week."
American robot dogs work in teams to achieve goals
On the other side of the globe, secretive robotics company Boston Dynamics earlier released a video showing off its design. Their demonstration showed a team of Spotpower robot dogs working together to pull a truck uphill at a slightly angled surface.
While a truck paled in comparison to a jet, the pack of American-designed robot dogs coordinated their movements in eerie sync. Unlike real dogs, they did not trip or get in each other's way.
Boston Dynamics also developed a smaller robot dog called SpotMini. The company designed this model to operate in indoor environments, such as homes or offices.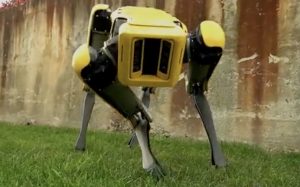 Described as one of the quietest robots in Boston Dynamics' growing army of humanoid and quadruped robots, SpotMini runs on electric motors. The version that appeared in earlier videos possessed an extendable neck that helped push itself back on its feet.
"It has a variety of sensors, including depth cameras, a solid state gyro (IMU) and proprioception sensors in the limbs," Boston Dynamics reported. "These sensors help with navigation and mobile manipulation."
What job are robot dogs taking over next? Stay up to date at FutureTech.news.
Sources include: